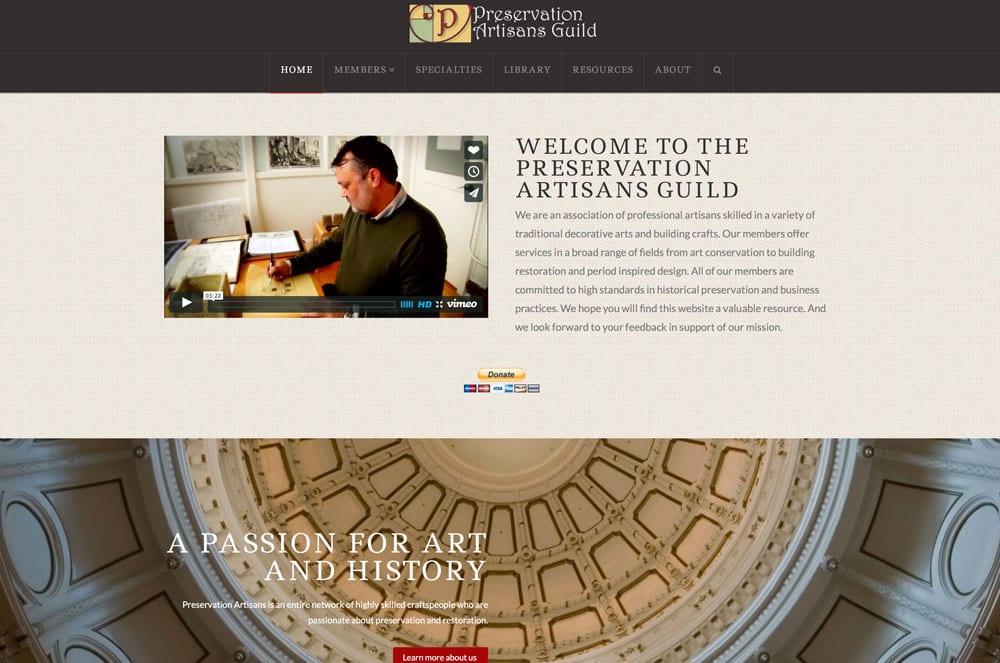 The Preservation Artisans Guild came to Pryor Media with an outdated website filled with outdated content and an incomplete list of member information. They came with the essential growing idea that a new website would bring them into 2015 in a new way, and present what they do with the style needed to generate great responses from their extensive community. We happily took the project, and transformed their organization into a central hub of information that everyone can now come to love as much as they do.
This project is actually a much larger undertaking than it seems at first glance. Each member (there are more than 25 of them) has their very own profile page on the site, complete with examples of their work, and their personal story of excellence. The site is then powered by great photographic presence, building upon the cultural preservation they love and showcasing it to the world. Each member a unique and talented craftsman, their pages needed to present information in a way that truly shows the nature of their work, and their dedication to excellence. In addition, the site also features a blog where the organization can publish updates and other articles related to their crafts, getting even more people involved in what they do best: preserve our history.
The results they've seen thus far have been overwhelmingly positive. In fact, we even have some members to add to the site now. As more people see it, more people want to make sure they are shown there as well. That's the kind of result we need to see!
On top of the design, Preservation Artisans is also powered by Pryor Media VPS, our super-fast hosting program that drives speedy performance for even large sites like Preservation Artisans. We look forward to seeing their organization thrive, and continue to help them into the future.